Graco XHD RAC Airless Spray Tips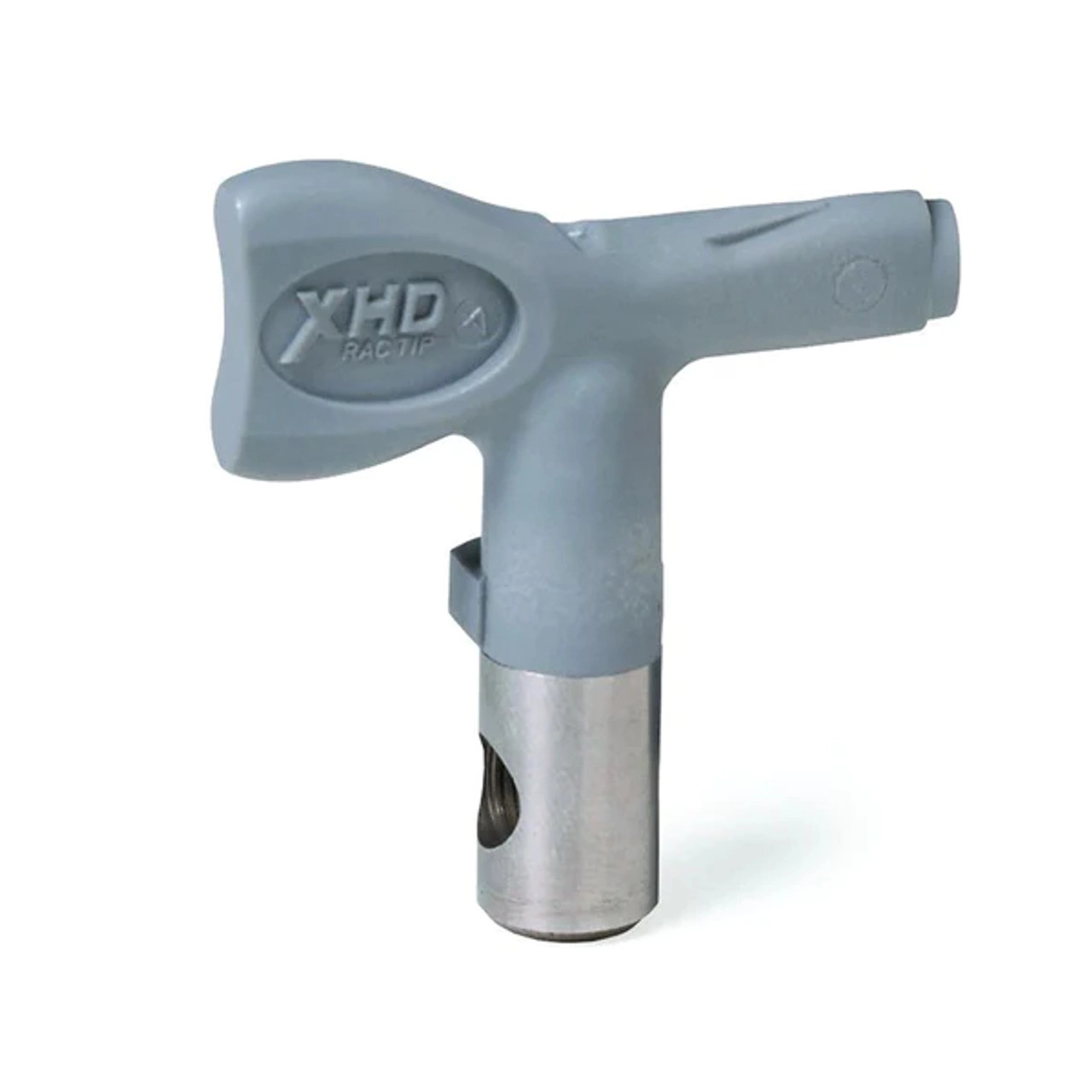 With its Reverse-A-Clean (RAC) Tip, it's easy to clear clogs. The Switch Tip design lets you change tip sizes in seconds – without removing the tip guard and housing.
High-Pressure Airless Spray Tip for XTR Guns. Designed for spraying high-solids coatings at high pressures.
Saves time – no screwdriver required, change tip sizes in seconds
For heavy-duty applications up to 7250 psi (500 bar)
Recommended for use with Xtreme Sprayers and XTR Guns
Heavy-duty carbide tip
Ordering Details

| Part Number | Description |
| --- | --- |
| XHD111 | Graco RAC XHD111 |
| XHD113 | Graco RAC XHD113 |
| XHD115 | Graco RAC XHD115 |
| XHD117 | Graco RAC XHD117 |
| XHD119 | Graco RAC XHD119 |
| XHD121 | Graco RAC XHD121 |
| XHD209 | Graco RAC XHD209 |
| XHD211 | Graco RAC XHD211 |
| XHD213 | Graco RAC XHD213 |
| XHD215 | Graco RAC XHD215 |
| XHD217 | Graco RAC XHD217 |
| XHD219 | Graco RAC XHD219 |
| XHD221 | Graco RAC XHD221 |
| XHD223 | Graco RAC XHD223 |
| XHD225 | Graco RAC XHD225 |
| XHD227 | Graco RAC XHD227 |
| XHD229 | Graco RAC XHD229 |
| XHD231 | Graco RAC XHD231 |
| XHD235 | Graco RAC XHD235 |
| XHD309 | Graco RAC XHD309 |
| XHD311 | Graco RAC XHD311 |
| XHD313 | Graco RAC XHD313 |
| XHD315 | Graco RAC XHD315 |
| XHD317 | Graco RAC XHD317 |
| XHD319 | Graco RAC XHD319 |
| XHD321 | Graco RAC XHD321 |
| XHD325 | Graco RAC XHD325 |
| XHD327 | Graco RAC XHD327 |
| XHD329 | Graco RAC XHD329 |
| XHD331 | Graco RAC XHD331 |
| XHD333 | Graco RAC XHD333 |
| XHD335 | Graco RAC XHD335 |
| XHD409 | Graco RAC XHD409 |
| XHD411 | Graco RAC XHD411 |
| XHD413 | Graco RAC XHD413 |
| XHD415 | Graco RAC XHD415 |
| XHD417 | Graco RAC XHD417 |
| XHD419 | Graco RAC XHD419 |
| XHD421 | Graco RAC XHD421 |
| XHD423 | Graco RAC XHD423 |
| XHD425 | Graco RAC XHD425 |
| XHD427 | Graco RAC XHD427 |
| XHD429 | Graco RAC XHD429 |
| XHD531 | Graco RAC XHD531 |
| XHD533 | Graco RAC XHD533 |
| XHD613 | Graco RAC XHD613 |
| XHD615 | Graco RAC XHD615 |
| XHD617 | Graco RAC XHD617 |
| XHD619 | Graco RAC XHD619 |
| XHD621 | Graco RAC XHD621 |
| XHD623 | Graco RAC XHD623 |
| XHD625 | Graco RAC XHD625 |
| XHD627 | Graco RAC XHD627 |
| XHD629 | Graco RAC XHD629 |
| XHD631 | Graco RAC XHD631 |

Order via SHOP button above or contact your local Burwell Branch
Make an Enquiry
Your submission is being processed…